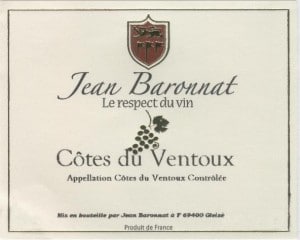 TECHNICAL CARD
Situation : the vineyard is situated in "Vaucluse" department, at the base of "Mont-Ventoux".
Soil : chalky.
Grape varieties : blending of Syrah, Grenache, Carignan, Cinsault and Mourvèdre.
Vinification : classical winemaking with checking of temperatures.
Maturing : in tank then in bottles.
SERVICE CHARGE : Serve all around of 14°C. Perfect with cooked pork meats fowls and cheese.