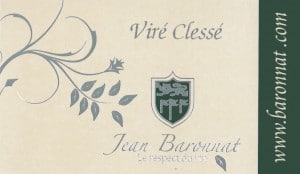 TECHNICAL
Location: it is the combination of the names of two towns of Viré and Clessé which form the name of this recent wine; located north of Macon, the vines grows  on hillsides at an altitude moyenne.de 200 m.
Terroir: the soil is made with  limestone and marl.
Single grape variety: Chardonnay.
Winemaking: traditional vinification of white wines of Burgundy.
Ageing: in tanks and then in bottles.
SERVICE :  Operating temperature around 10 ° C. Ideal as an aperitif and as an accompaniment to shellfish and seafood.